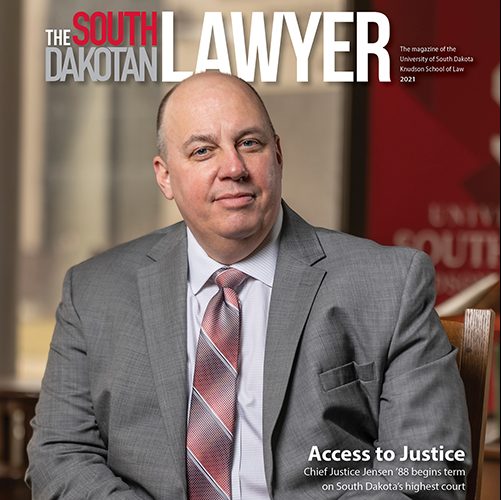 Former Crary Huff partner Steven R. Jensen begins term on South Dakota's highest court
Former Crary Huff partner Steven R. Jensen is featured in the most recent issue of The South Dakotan Lawyer, which documents the start of his term as Chief Justice of the South Dakota Supreme Court. Jensen's term began in January 2021.
The article also includes an interview with Crary Huff attorney Darrell A. Jesse, who not only worked alongside Jensen at the firm, but was his roommate while attending the University of South Dakota Knudson School of Law.
Click here to check out the full feature.
Jensen is the second state supreme court justice to have formerly practiced at Crary Huff Law Firm. The Hon. Daryl Hecht served on the Iowa Supreme Court from 2006-2018 . Crary Huff is proud of its long history of highly-skilled and well-respected attorneys who have moved on to the bench. Congratulations to Chief Justice Jensen and his family!
Photo credit: University of South Dakota